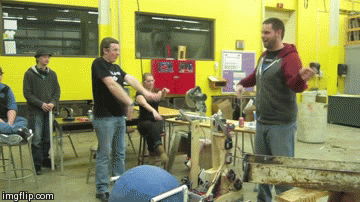 Yeah so we could watch those gifs for about 5 hours straight...
Shoutout to FRC 2175 Fighting Calculators for giving us the idea of making GIFs. Will try to do more that in the future!
Instead of watching that for 5 hours though, we worked the past couple days on our next steps!
Truth be told, we're moving slowly because we are waiting on new parts to come in. However! We are still doing some great stuff.
Like building the new hammer! It's going to be made out of wood - 2x4s and 4x4s. We're going to paint it and... Look, just stay tuned. This new hammer is quite a bit more intense.
We also started painting the grippers and thinking of cool ways to integrate them into a robot theme (LEDs are involved...).
We met with a business to start making a new banner. Our color scheme and general team branding rules have changed in 3 years.
Our track jacket money was due today. Those should be done in about 2 weeks. CANNOT WAIT!
T-shirts for this year have proceeded along nicely. They are going to be sweeeeeeeeet! Athletic, running type of shirts with a new design on the front.
We touched up the FRC mascot and put polyurethane on the FTC one to keep it safe. The driver station got repainted to cover some bumps and bruises. The wheel wells to hold the robot got taken off so we can hold the new robot.
Yeah, just a lot of stuff going on! Getting ready for competitions and building robots and just working hard!